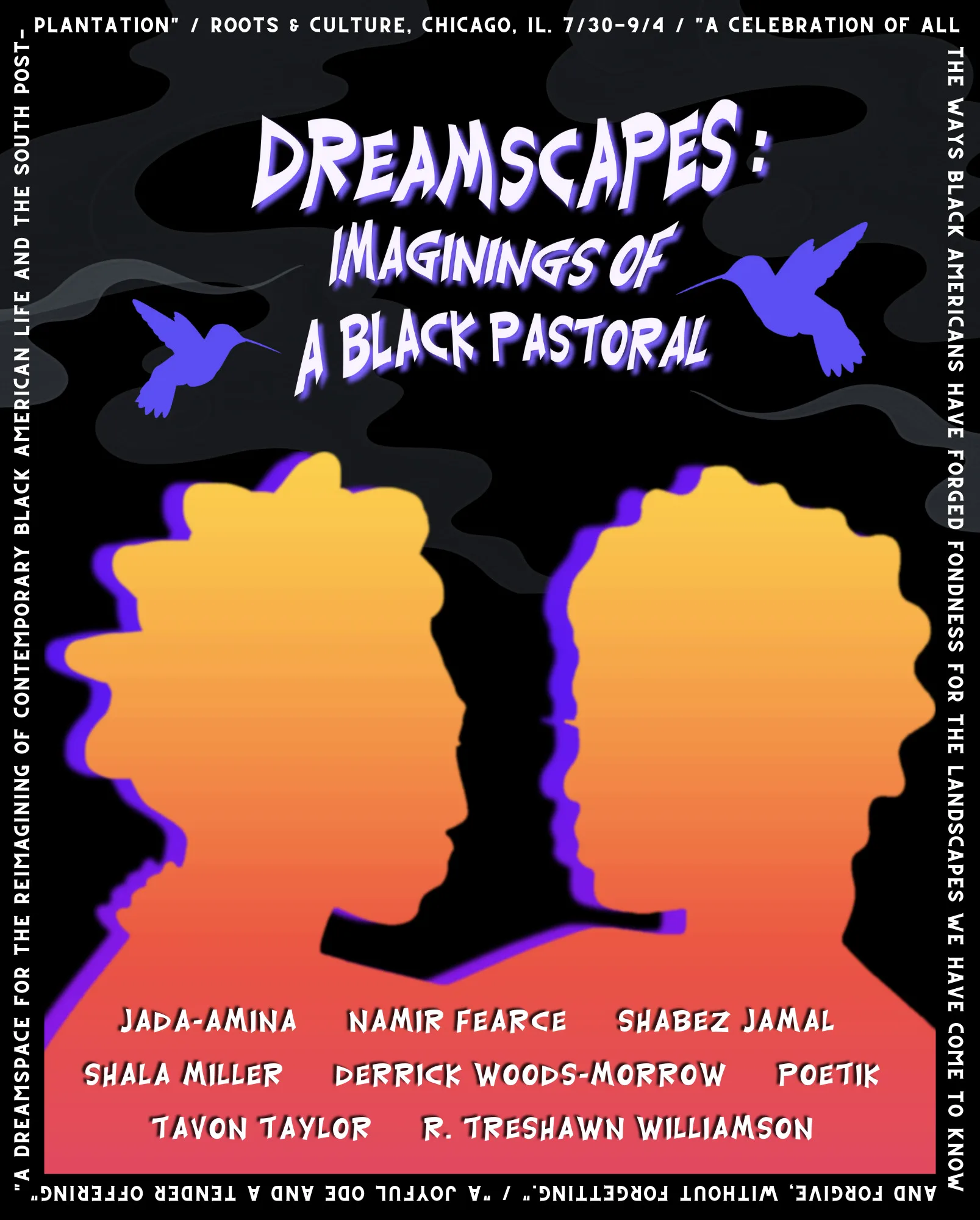 –
"Dreamscapes: Imaginings of a Black Pastoral" curated by Anisa Olufemi
Opening Friday, July 30th 4–9pm
Dreamscapes: Imaginings of a Black Pastoral points toward a queer, liberatory space for reconsidering both the historical and contemporary relationship between Black Americans and non-urban landscapes. It is a joyful ode and a tender offering. It is a celebration of all the ways in which Black Americans have forged fondness for the landscapes they have come to know and forgive, without forgetting. 
Featuring work from contemporary artists Jada-Amina, Namir Fearce, Shabez Jamal, Derrick Woods-Morrow, Shala Miller, POETIK, R. Treshawn Williamson, and Tavon Taylor, Dreamscapes: Imaginings of a Black Pastoral offers a dreamspace for the reimagining of contemporary Black American life and The South post-plantation. This group exhibition invites viewers to think deeply, and carefully, about Black being in America beyond prescribed urbanity. 
The participating artists render their imaginings through video, collage, photography, drawing, sound. Their work highlights the overlooked nuances of Black American life, legacy, and lineage — pulling apart misconceptions of Black rurality, indigeneity, and Southerness while pointing toward the endless possibilities of Earth-bound salvation. Surreal renderings of rural landscapes and Black beings in play and repose stir a wide range of sensations — romance and realness; sentimentality and sadness; ease and discontent. 
Dreamscapes: Imaginings of a Black Pastoral is curated by writer, curator, and cultural worker Anisa Olufemi; 2021 CONNECT Curator in Residence.
ANISA OLUFEMI
Anisa Olufemi is a Washington, D.C. based curator, writer, cultural worker, and art related programming coordinator of Black American and Afro-Trinidadian descent. In 2020, they earned their BFA from The School Of The Art Institute of Chicago with a focus in art history, arts administration, and writing. Olufemi is also a member of the Art Institute of Chicago's 2018 Andrew W. Mellon Summer Curatorial Academy cohort.
Their work is driven by their research of socio-political and cultural productions that have occurred within the ancestral and contemporary African Diaspora, particularly that of the American South and the Caribbean. A lifelong student of these estranged sister-lands, they are always in search of common threads between the two. Their curatorial and writing practices interrogate cultural contrasts, overlaps, and myths that are often obscured by colonialism, along with subsequent Diasporic alienation. 
Their work is also deeply rooted in the study of post-colonial critical theory, anti-carceral analysis, trans-national oral histories, land / labor politics, and Black Feminist Thought. Olufemi's research and critical theory has been presented in Cincinnati, Ohio at the Midwest Art History Society Conference (Cincinnati Art Museum), and in Chicago, IL at the Figures of Sympathy Symposium (Stony Island Arts Bank).
JADA-AMINA
Jada-Amina (b.1995)  is a South Side Chicago born and based, Black Indigenous American interdisciplinary artist and cultural worker. Their practice engages mythmaking and the archive by excavating legacies of the Black family and The Gospel. Their sound, video and other collage work explore Black (re)membering through experimental modes of storytelling, deploying the speculative and the surreal. Jada-Amina's work is deeply rooted in theories of Black collective consciousness as well as diasporic cultural hybridity. Using cultural data from both their personal archive and the public domain, Jada-Amina contemplates the potential of the extended portrait as a portal in which Black subjects transpose the static of the photo, mediating Blackness as something that is celestial and holy.
Jada-Amina is the child of sharecroppers and midwives from Little Rock and Marvel, Arkansas and Cade, Louisiana of  St.Martin Parish. They received their Bachelor's of Fine Arts with an emphasis in New Genres and Art History from The School of The Art Institute of Chicago. Jada-Amina's work has been shown at the Museum of Contemporary Art of Chicago, Echo Park Film Center, The Music Box, and DocFilms at the University of Chicago. 
NAMIR FEARCE
Namir Fearce is a North Minneapolis born interdisciplinary artist and cultural worker. His studio practice engages experimental film, assemblage, and music under the moniker Blu Bone. Fearce is informed by a constellation of Black Atlantic histories and sites of memory that weave complex emo-political worldscapes in which Black futurity and freedom are conjured. Fearce holds a BFA in Studio Art with a concentration in Film & Sculpture from the University of Illinois at Chicago.
Fearce's current work is seated in his familial legacy by way of Natchez & Yazoo Mississippi and seeks to excavate the histories of the blues and pleasure making in the Black migratory journey. To activate and retrace the steps back to his mother region as a Northern descendant of the Black South. 
SHABEZ JAMAL
Donny Bradfield (b. 1992, St. Louis) better known as Shabez Jamal, is an interdisciplinary artist based in New Orleans, LA. His work, rooted in still portraiture, experimental video and performance, interrogates physical, political, and social-economical space by using queerness, not as a means of speaking about sexuality, but as a catalyst to challenge varying power relations. Focusing his lens on fat, black, queer, male identified persons, who are often seen as the antithesis to blackness/queerness, his work acts in radically redefining the parameters of racial and sexual identity. As of 2020 Jamal is pursuing his MFA at Tulane University in New Orleans where he was also awarded a Mellon Community Engaged Research Fellowship. 
SHALA MILLER
Shala Miller, also known as Freddie June when she sings, was born and raised in Cleveland, Ohio by two southerners named Al and Ruby. At around the age of 10 or 11, Miller discovered quietude, the kind you're sort of pushed into, and then was fooled into thinking that this is where she should stay put. Since then, Miller has been trying to find her way out, and find her way into an understanding of herself and her history, using photography, video, writing and singing as an aid in this process. She holds a Bachelor of Fine Arts degree in studio from the School of the Art Institute of Chicago, where she studied photography, film, video and writing.
DERRICK WOODS-MORROW
Derrick Woods-Morrow (b.1990) is an early career multimedia installation artist who centers process oriented, and collaborative based projects across a variety of venues, digitally occupying space, and utilizing pedagogical tools to bridge the physical and virtual realms. Woods-Morrow's (b.1990) work is a meditation on deviation and disruption, on language and representation – on growing up in the American South. Currently based in Chicago and originally from Greensboro, North Carolina, his artistic practice explores black sexual freedoms and the complicated histories concerning access to these freedoms.
Woods-Morrow received his MFA in Photography from the School of Art Institute of Chicago in 2016. His work has since been exhibited in collaboration with Paul Mpagi Sepuya in the 2019 Whitney Biennial; in thematic international and national group exhibitions at Kunsthal KAdE in the Netherlands, the Schwules Museum in Berlin, as well as The Contemporary Art Center in New Orleans; and the Museum of Contemporary Art Chicago. He is a member of the Chicago-based collective 'Concerned Black Image Makers' and as of Fall 2020 is on the Board of Directors at the Fire Island Artist Residency. 
POETIK 
Kasmir Jones (b. 1996, Vorhees, NJ, by the way of Delaware) better known as POETIK (the girl who wears many hats), is a Multidisciplinary artist who carries her work in a plethora of disciplines and explores many artistic forms. She specializes in mixed media, collage and design. She has worked creatively with brands like Instagram, Wondaland Arts Society, Parkwood Entertainment, Rada Studio, Refinery29 and more. Her work has been exhibited at the SOMArts Cultural Center: Forever A Moment: Black Meditations on Time and Space, (Feb 14-April 9, 2019) and The Africa Center in Harlem, NY: Where is South? (June 13-July 21, 2019). In addition, POETIK has been recognized and featured in publications such as: Ebony, JET, Afropunk, NYLON mag, MA.DE and more.
POETIK is fascinated by how people use design as a form of visual communication and explores the intersections of identity and Black culture. In her collage work, she displays 'dreamy' imaginings of the futurity of Black life decentering the white gaze. She places figures, known and unknown in earthly landscapes that express what is and expounds on what could be. Furthermore, Her education in the arts and curiosity continues to shape her artistic language.
TAVON TAYLOR
Tavon Taylor is a photography-based artist from Washington, DC. He uses visual narratives to represent his lived experience as a queer black adult. He questions concepts of beauty while creating detailed and delicate photographs through a black lens. Tavon finds strength in vulnerability. He creates images influenced by family and community through portraiture, styling, still life, and landscapes.
Tavon's work has appeared at the Griffin Museum of Fine Art in Boston, MA; The MassArt Annual Auction for Student Scholarships; and more. His work has been featured in the Boston Globe, VOGUE Italia, All About Photo, and other online publications. 
TRESHAWN WILLIAMSON
Treshawn Williamson (b. 1998) is a Chicago based essayist and multidisciplinary artist of Black American descent, from Prince George's County, MD, by way of Livingston, Alabama, and Augusta, Georgia. Williamson's work is a meditation on the obstruction and surveillance of the lived histories of African-Americans. He investigates the application of cultural re-imagination in the African Diaspora through the engagement of oral histories, post-colonial theory, folklore, and ethnomusicology. In 2020 Williamson earned his BFA from the School of the Art Institute of Chicago.